A Foodie Guide to Vancouver
By Ellen Gale
/
5 Minute Read
/
Wednesday, 8th November 2023
Our PR and Social Media Executive, Ellen, recently visited Vancouver as part of a roadtrip across the Canadian Rockies. After a couple of days on the road, here's some of the food she managed to try;
As we adjusted to the time difference, my partner, Sean, and I set out on our first full day in Vancouver to find some brunch. Right around the corner from the iconic Gastown and steam clock, we wandered into Nemesis Coffee Shop. Sean quickly tucked into a luxurious looking pork belly eggs benedict, while I had a pretty average breakfast sandwich. It's never too early for dessert however, so the brunch was saved by the raspberry rose cronut we split. Filled with delicious cream, it was surprisingly light and perfectly sweet without going overboard. Despite being so light, the meal was filling enough to keep us going until dinner time.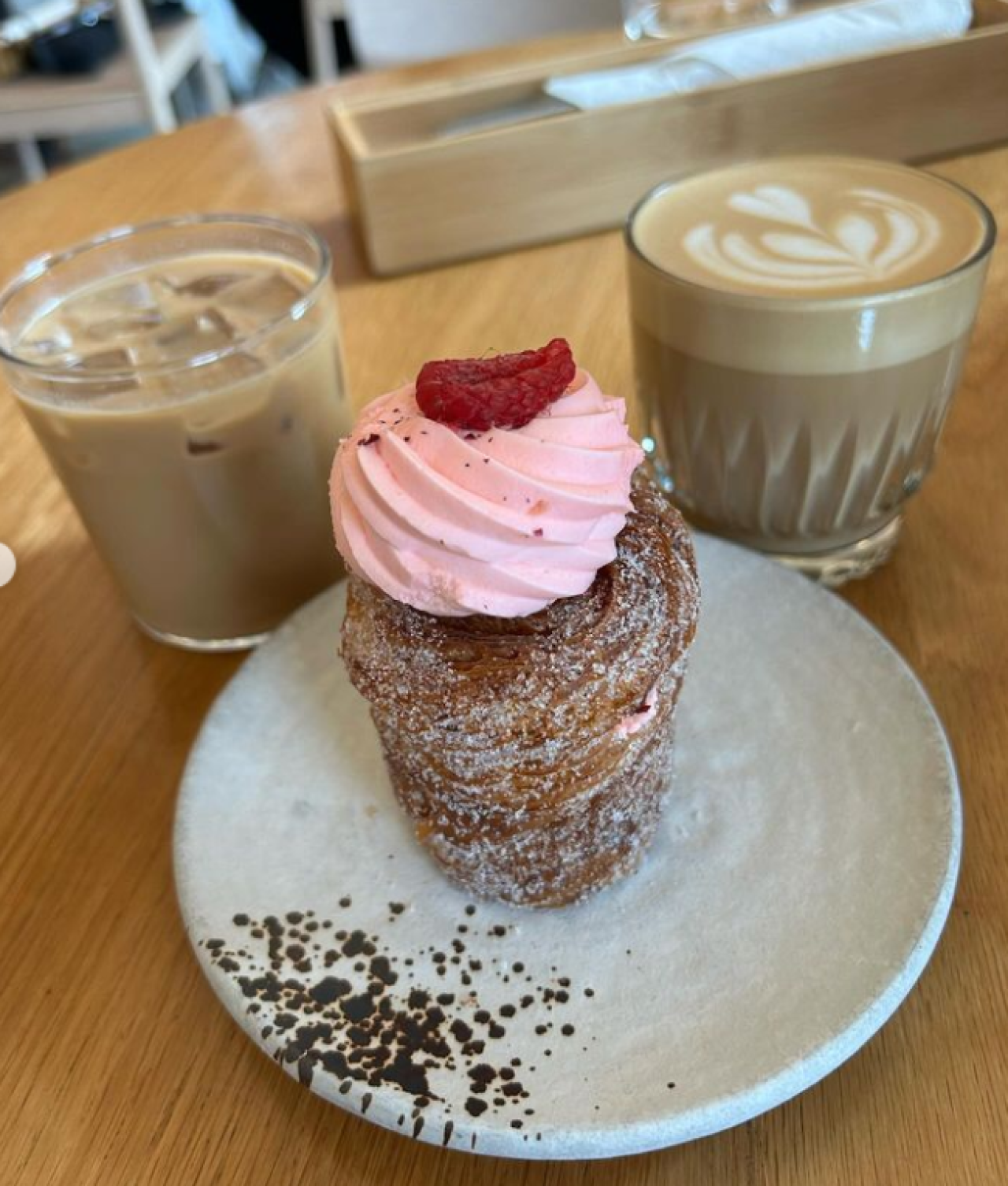 In the evening we met up with some relatives, who took us to The Boathouse at Kitsilano Beach. We'd recommend adding this to your list for the views alone (although the food was amazing too!). The floor to ceiling windows offers spectacular views of the Pacific and surrounding mountains. Given that it's right on the coastline, it's no surprise this place specialises in seafood. But fear not, if you're like me and don't like seafood, there are plenty of fish-free menu items. For mains I had a delicious truffle butter roasted chicken, served with goats' cheese mash and Brussels sprouts, while Sean had a cod coconut Thai curry. We also had our first experience with Canadian wines, and I can confirm that BC produces a great pinot grigio. Coming from someone that doesn't typically drink wine, Inniskillin in particular is very smooth and easy to drink. Too easy! For dessert, Sean enjoyed a refreshing and zesty key lime pie, while I devoured a mocha ice cream pie garnished with maple almonds.
Waking up the next day from our food coma, we decided to just grab a coffee to tie us over until lunch. Having sort of over-done Tim Hortons, we decided to mix it up by getting our pick-me-up from Waves Coffee House instead. Sean played it safe with a regular latte, while I tried their spirulina coconut leche. 10/10, no regrets! This frothy drink was so creamy and visually striking thanks to the spirulina. Despite agreeing to wait for lunch, I also nibbled on a Nanaimo bar – a no bake bar consisting of three layers; wafer, nut, and coconut crumb base, custard icing in the middle, and chocolate ganache on top. This was definitely a winner for me. If we'd had the time, I would have loved to take a ferry over to Vancouver Island to visit the town of Nanaimo where it was invented and try some local versions. In the name of research, of course.
When lunch time came around, we popped in to Meat and Bread. We both opted for the special sandwich of the day, roasted turkey. This came in a crispy panini with generous lashings of gravy, house-made root vegetable slaw, pumpkin seed crumble, and yam puree to tie it all together. It made me realise I definitely need to up my sandwich game at home…
In the afternoon we explored Granville market area, and chose to eat at Tap and Barrel due to its convenient location. Sean had a crispy chicken mac 'n' cheese, while I had some spicy chicken lettuce wraps. These were okay, but nothing to write home about.
The next day took us out of the city to explore the surrounding area, but we returned in the evening for a meal at the Vancouver Lookout Tower, Top of Vancouver Revolving Restaurant. This is another great spot for views of sea, sky, and mountains, as well as everything urban. Completing a full rotation approximately every hour, we timed our reservation for sunset so we could see Vancouver transition to night. Although a bit pricier than our other stops, we'd say the food was definitely worth it. Sean enjoyed jerk roasted chicken, while I had duck breast served with a citrus red wine jus and mushroom risotto. Deee-licious! For dessert, we split the cheesecake special – mango and coconut. Complete with fresh fruit and whipped cream.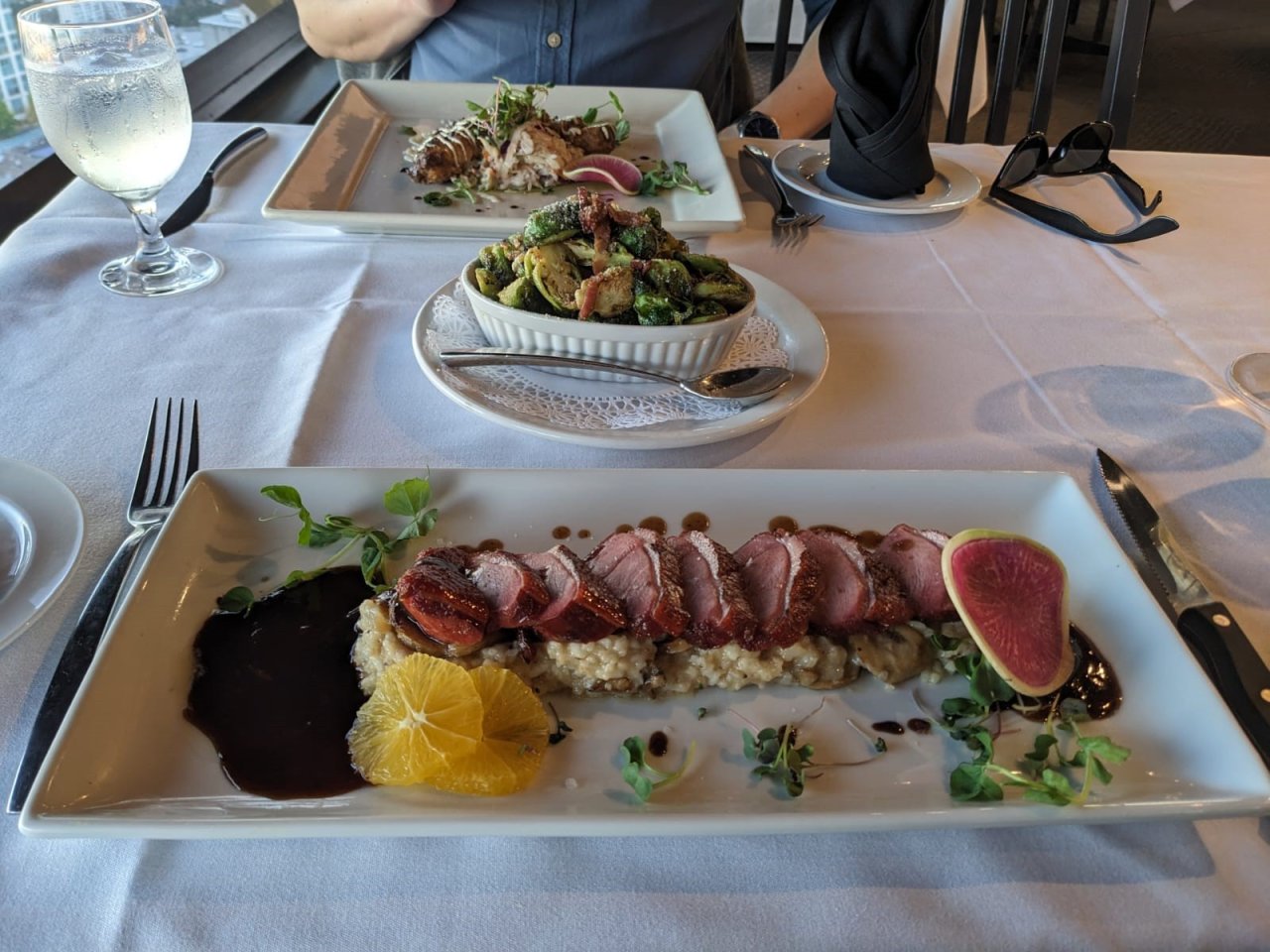 For those that prefer desserts with a little more pizzazz, 7 Inch Waffle House is Vancouver's first NSFW dessert shop. Simply choose your waffle shape (no judgement involved!) and customise your toppings for the most satisfying mouthful. Sean opted for a milk chocolate dip with Oreo crumble, while I chose white chocolate and coconut. We certainly got a few odd looks as we wandered the area, munching away!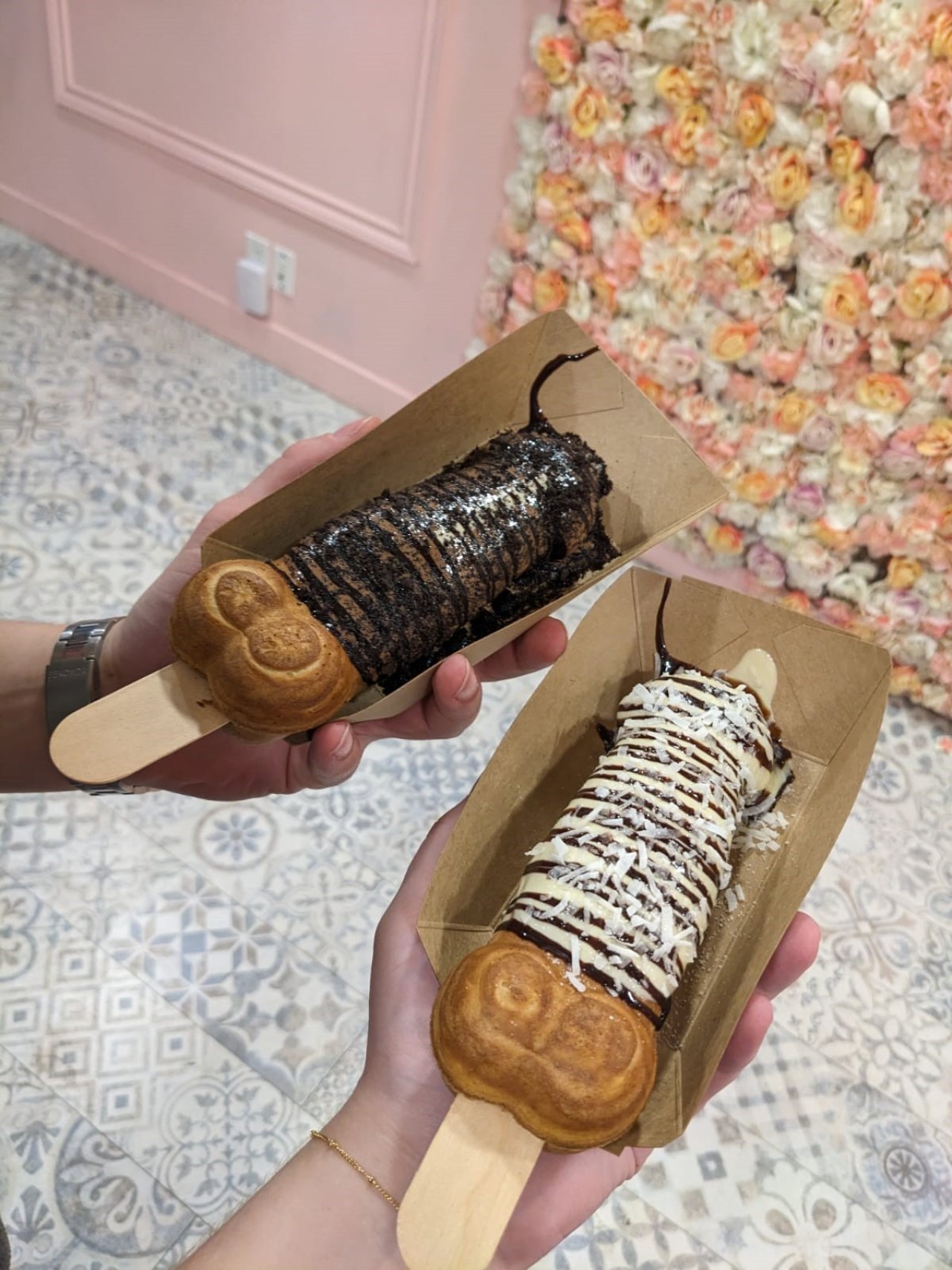 Ultimately, we barely scratched the surface of Vancouver's culinary scene, but what we did get to try was scrumptious. This is definitely the place to visit if you're a seafood fan. International eats are also popular – sushi in particular. Did you know… the California roll was actually invented in Vancouver back in the 1970s? If we get the chance to visit again, I may have to set aside my dislike of fish to try this roll in its birthplace. And then quickly reward myself with a Nanaimo bar!